Case Study
Thirdfort
Thirdfort is on a mission to protect society from fraud and anti-money laundering. With their combination of app and web based verification solutions, professionals in the legal, property and finance space can onboard clients securely in minutes.
View live site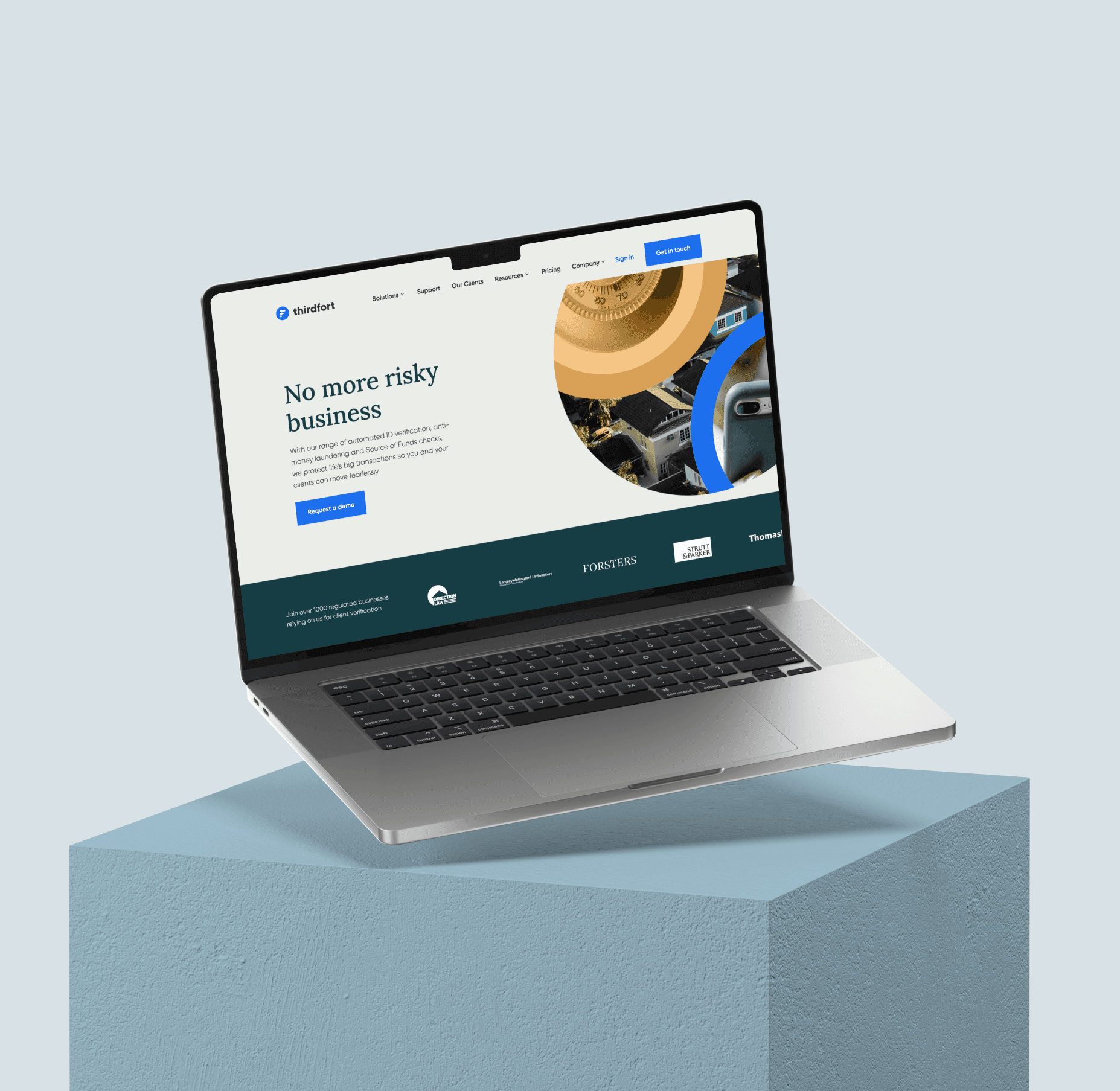 Why Rebuild?
An evolving company wrestling with a static site
Since launching their previous website, Thirdfort had experienced significant growth of both their team and their product offering. This included a new suite of verification solutions to cater to new sectors and within the team, with a motivated new design department and experienced product marketer.
With all of this movement up against a website that was difficult to evolve, Thirdfort made the decision to embark on a full website re-think, re-design and re-build.
Planning for success
Honey & Jam had been supporting Thirdfort with their previous website, so was well aware of the blockers and challenges it posed for the team. We worked with the internal team to re-think the site from the ground up and in a way that would facilitate future growth and be easier to manage.
Starting with the website structure, we worked closely with the team's product marketer, planning the site structure to allow for clear messaging of the product across different sectors. We also reconsidered how content such as blogs, webinars and news posts were shared on the site, particularly to accommodate the marketing team's consistent schedule of webinars.
Creating a site to stand the test of time
Choosing a CMS that the team would love
After considering our options with the Thirdfort team, Storyblok was chosen as the CMS for the new site. With its visual editor and well-structured page and document management, it was the ideal choice for the team.
Compared to other website management solutions I've used, Storyblock is incredibly intuitive and easy to use.The WYSIWYG editor, which allows you to see the impact of any edits you make in real-time is particularly useful and allows non-technical users to edit, adapt and create pages as needed. Storyblock also allows you to build pages on the fly using pre-made modules or blocks, this is really beneficial to us and allows us to quickly spin up pages without needing the input of a coder or web designer.

~ Mike O'Keeffe, Head of Marketing @ Thirdfort
Designing with Storyblok in mind
By working closely with the internal design team, they created a set of designs which reflected the new branding and suited building with a CMS. This was achieved by designing with repeatable sections in mind, creating a library of 'blocks' with different layouts and colour variations. This resulted in a vibrant and consistent site that still gives the team a lot of flexibility for the future.
The new website is much more user-friendly and easier to manage than our previous website. It was important to us as a marketing team to be able to edit pages without having to rely on a developer to make the changes, freeing us up to rapidly make adjustments and run tests on our website.

~ MIchael O'Keeffe, Head of Marketing @ Thirdfort
Built for performance
As well as bringing their branding up to date, Thirdfort also wanted to up their SEO game with their new site. We approached this by restructuring the site architecture, increasing site speed and optimising core web vitals.
Thirdfort also wanted to build a website that would perform for everyone, so we worked on implementing accessibility features to make navigating around the site and digesting content easy for everyone.
Outcome: A performant website that makes life easier for the marketing team
Since launch Thirdfort has seen an impressive improvement in SEO performance and conversions. The team has also enjoyed a better website management experience that enables them to make changes and add new pages to the website fast.
Overall the changes have resulted in a 10% increase in average user time on site and a 2x increase in conversions. It has also improved our SEO performance, since the launch of the website, we've noticed 60% increase in impressions and 20% increase in clicks on Google.

~ Michael O'Keeffe, Head of Marketing @ Thirdfort