Case Study
The Resource Key
Where WordPress was holding them back, a custom site backed with Primsic CMS enabled The Resource Key to create a site that was entirely accessible and inclusive.
View live site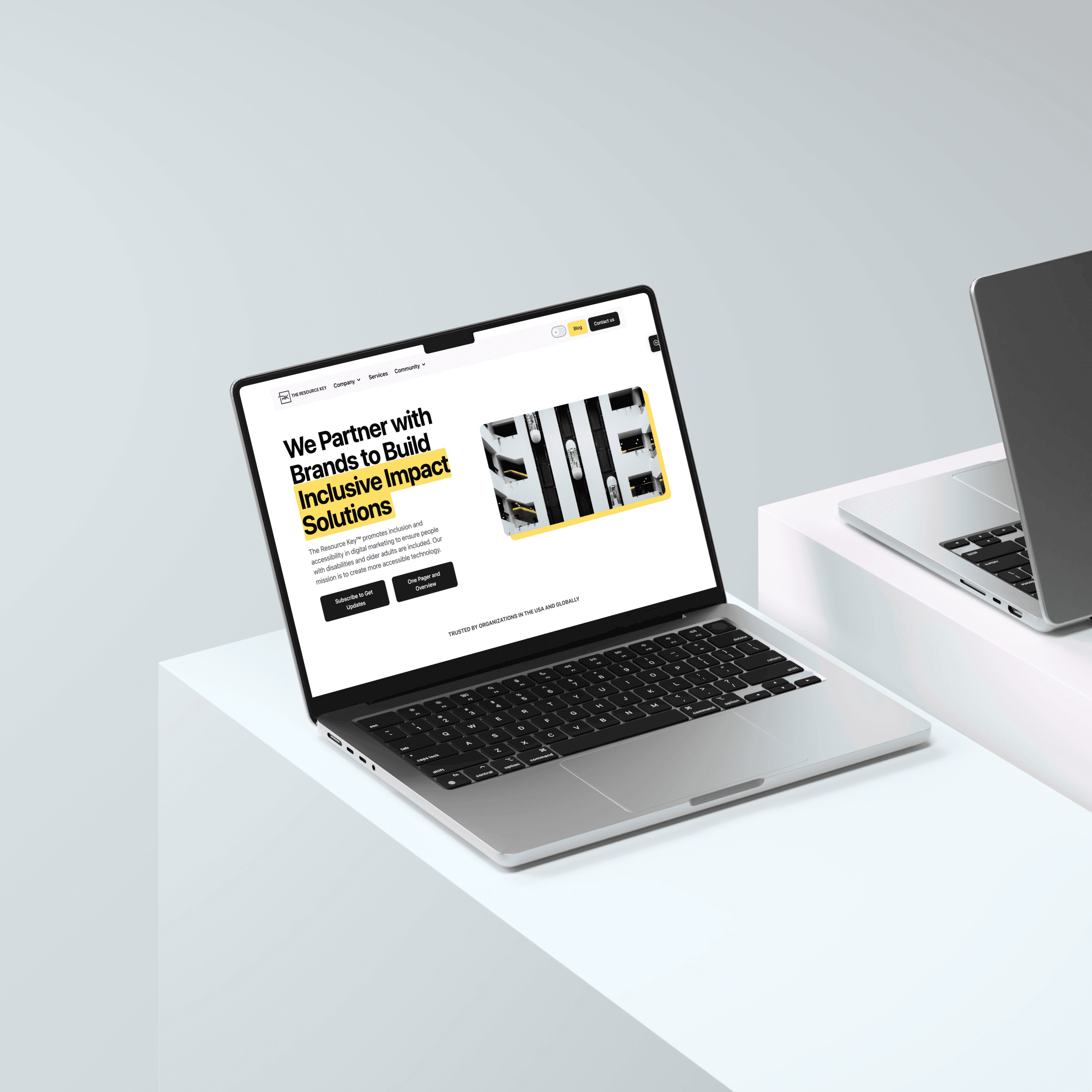 The Resource Key is striving to make the world a more inclusive place. Working with companies, they advance inclusivity and accessibility initiatives by advising on making apps and tech products accessible, consulting on DEI strategy development and providing education on creating a more inclusive workplace. 
Battling with an uninclusive WordPress website 
The Resource Key was previously using a WordPress template for their website which had poor accessibility and didn't reflect the brand they wanted to present to the world. They found that making a WordPress website accessible was difficult, so decided to try Prismic as a CMS, knowing that they wanted to keep the ability to change and create content without relying on a developer. 
Taking an accessibility-first approach to design & build
We took The Resource Key's project from start to finish, creating designs that were modern without compromising on accessibility. Jourdan Saunders, CEO at The Resource Key, wanted the designs to be minimalistic, high contract and accessible. Using too much subtle colour compromises accessibility, so we went with a black-and-white theme using yellow as an accent colour. 
Throughout the project, we paid close attention to implementing accessibility features for multiple different needs. This included incorporating a light/ dark theme option to enhance contrast where needed, adding native zoom and optimising the site for screen readers. This, combined with intentional design choices of high-contrast colours and omitting animation, resulted in a highly inclusive experience to satisfy an array of needs. 
Working with Kris on The Resource Key website was a great experience from start to finish. One of the goals that was very important was ensuring website accessibility, Kris was wonderful to work with and ensured everything aligned with my goals. In addition, I loved the clean look of the new website. Throughout the process Kris had a great process to communicate all updates, the process was very organized. His expertise and guidance was valuable and I look forward to utilizing his services in the future.

- Jourdan Saunders, CEO, The Resource Key
A certifiably accessible website 
After we launched the website, The Resource Key decided to have the website tested by a professional body for accessibility. Thanks to our efforts and The Resource Key's determination to invest in their site's accessibility, it passed the test meeting the requirements of the Web Content Accessibility Guidelines (WCAG) 2.1.  
This project taught us a lot about accessibility and ignited our determination to make every website we produce as accessible as possible.