Website Anatomy
How to create an inspiring careers page
Join us as we dive in to what makes a careers page that builds your employer brand and attracts top-talent.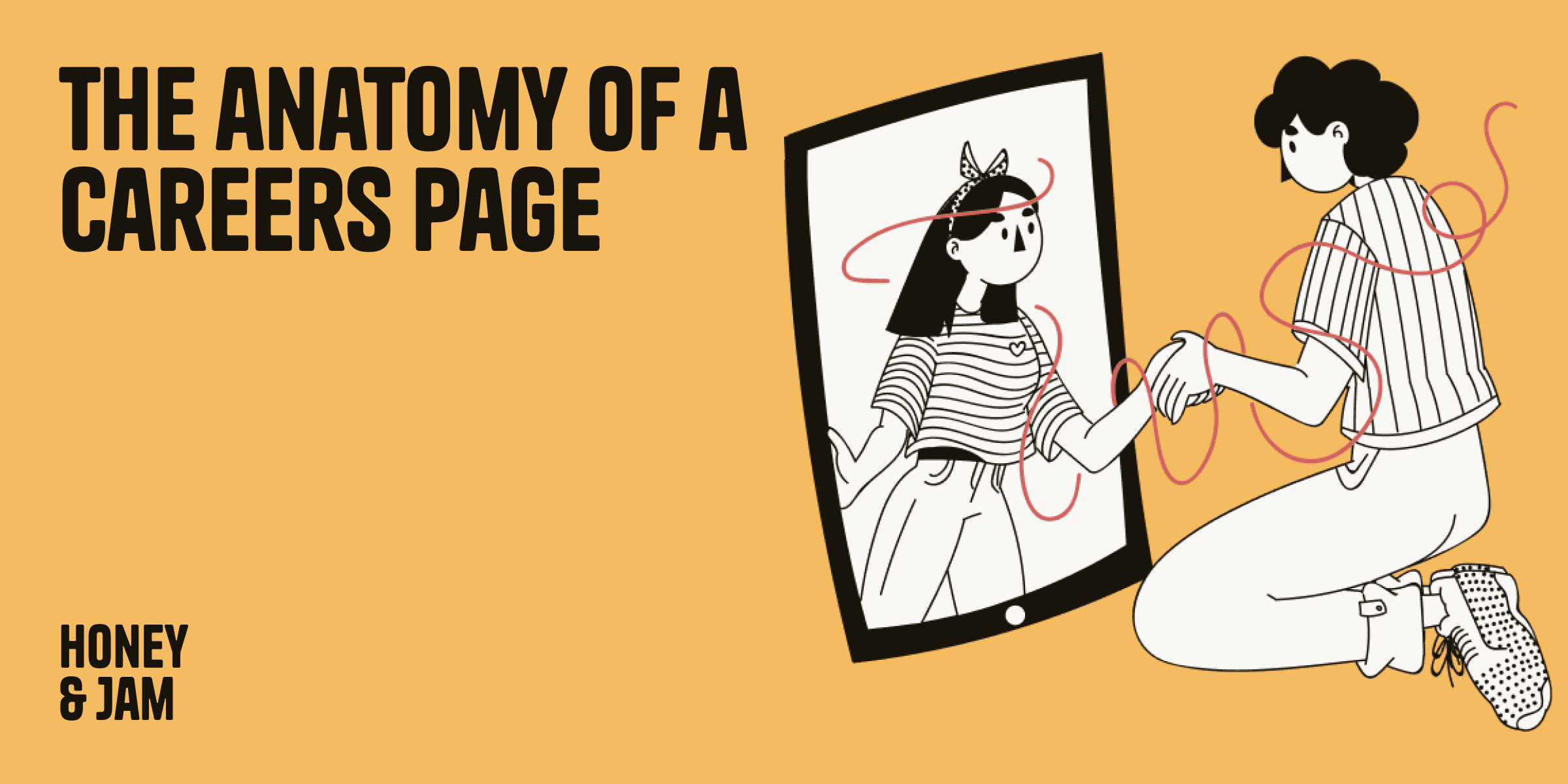 Why your site needs a dedicated careers page
As a growing company, you're most likely on the hunt for new talent. Whether it's a few times a year or new roles popping up every week, you need to be thinking about a careers page.
Some companies choose to just link to their job management platform like Lever but this skips the benefits that come with creating your own bespoke careers page:
Building your employer brand

Engaging top-tier talent

Providing a window into your organisation
A great careers page can get people excited about what you're doing in your company and entice someone to keep checking in, in case a suitable role for them pops up!
With services like Homerun, you can easily put together a careers page without having to worry about code and design.
The scale of a careers page can go from simple to separate microsite! Where you want to take yours will depend on your resource and demand.
Best practices for your careers page
Company photography > stock images
Stock images are the easy way out, but usually they're pretty noticeable. When talking about your wonderful team and selling your work environment and culture, it's always best to use real photos of the team and offices. It's a more authentic approach which stands out to potential applicants.
Not every company will have the resource to spring for a company photography session, and that's okay! These photos don't need to be professional calibre, in fact there's times where these more casual photos work really well!
(Example from Homerun)
Team away days and company retreats are a great chance for a photo op so seize the moment and snap some shots of the team!
(Example from Slite)
Equally, if you've got some budget for it, professional photos are a great asset for your website as well as other collateral or content you might create like pitch deck, social media posts and even press releases!
(Example from Thirdfort)
It's also a nice touch get some team headshots in a consistent style which can be used on your website as well as individual's LinkedIn posts, building your employer brand everywhere!
(Example from Zendesk)
Videos
Like photography, video isn't something that every companies can invest a lot in. But a simple talking head video can work incredibly well to humanise your brand and create something memorable.
Beam for example have put together a video of employee talking about life at Beam, leaving you with a great impression of the team and working life at the company.
If you are going to invest in a video, then make sure it's up front and central to get the most from your efforts! A good 2 - 3 minute video like Thirdfort has done is more than enough!
Employee testimonials
It's great to include friendly words from current employees about their experiences with the company. After all you can't beat hearing it from the source!
These are a good opportunity to back-up your points about things like career progression, support for families or the social side of your company.
This example from Toggl has given each employee testimonial a badge which is a nice touch!
Going back to our video point, this can be a nice way to incorporate some video content like Prismic has done.
Sections to include on your careers page
We've gathered a bit of a pick n mix selection of what you could include on your careers page, not necessarily that you need to include it all:
Job listings

Company values

Your company mission/vision

Details on work environment

Perks & benefits

Awards & recognition

Application process

Introduce your people & teams

Links to people & culture blogs
Job listings
The main purpose of your careers page is to appeal to top-tier talent and encourage them apply to joing to team. So you'll of course want to be directing people to open opportunities at your company from your careers page.
Some choose to embed the list of open roles (or at least a selection of them) while others choose to link to a dedicated page of listing. We always like to see when a company has at least included a preview of some of the role on offer if not the whole list, like Prismic has done here.
Some sites like Prismic also like to include a generic open position for people to express their interest in the company where there isn't a suitable open role. Instead of having an open application to join the talent pool, Doist invites aspiring applicants to sign up to be notified of new roles matching their skillset.
Your company values
Most companies nowadays have a set of values that they strive to live by at work. They are also an effective way of indicating whether someone is going to the be right fit for your team or not.
This is one of the most popular things to find on a careers page, so if you have a set of values, be sure to include them with some nice icon or illustration and try keep your explanations for each value snappy and succinct.
(Example from Ruul)
(Example from Lattice)
Company mission/ vision
This is your opportunity to inspire applicants and get them motivated about the company. Talk about what pushed the founder to start the business, the problem they're trying to solve and the kinds and the success they've had so far!
It works really nicely to have these words come from the founder themselves, whether it be in written or video format.
(Example from Slite)
Veed has opted for a longer-format video from their founder motivates potential applicants to buy-in to the vision.
Work environment
Whether it's in-office, remote or hybrid, you'll want to get into the details of what the work environment is like.
Notion for example is open about their in-office expectations which is important to know for potential applicants and helpfully provides the why behind this policy.
Toggl has taken flexible working with their RAFT approach which is specific to them, menaing 'Results and Accountability First'. This obviously takes a bit more explaining than a 40 hour work-week, so they link to a blog they've written on the topic from their careers page.
Perks & benefits
This is something all applicants will be eager to see, so don't shy away from publishing your perks and benefits!
Things you might want to highlight include:
Holiday entitlement

Hybrid / remote working

Company social events

Parental leave

Health insurance

Pension contributions

Home office or wellness budgets

Any unique benefits that set you apart!
For large, international companies, you could consider creating pages for the benefits in individual countries as these may differ. This is the approach Wise has taken as part of their careers microsite (we'll touch on this more later).
Awards & recognition
It's always fun to shout about your success and there's no better place than your careers page to wow potential applicants! Especially when it comes to recognition for your company as a place to work.
Be sure to put yourself out there for these kinds of awards and recognition. You don't need to be a huge company to get these badges and recognition on these lists.
(Example from Zapier)
(Example from InVision)
Application process
Although not as common, it's a nice touch to let people know what they're getting themself into with your application process (and can save your people team answers the same question over and over again!).
Hotjar has done a nice job of visualising the process here and provided the alternative route for engineers.
Some companies also like to provide a guide or tips for applying and interviewing with the company like Notion has done.
Introduce your people and teams
Again in the efforts of humanising your brand and really giving a window into the organisation, a great approach is to introduce individual teams or even team members.
We love how Notion has approached this with videos from a number of different teams, sharing their experience of working at notion and what it's like to work on their team including their priorities and culture.
Links to people & culture blogs
There's always more to say when it comes to your people and company. That's why it's nice to link out to blogs and articles which continue the conversation, without having to try include every detail on one page.
For example, Toggl links out to their informational article on what RAFT means and how the company approaches working hours.
Careers microsites
For larger companies like Wise and Wix, with a big people / HR function and a lot of recruitment demand (both have over 5000 employees), it's common to see a careers microsite.
This gives the company more space to dive into different aspects of working with the company in more detail or split information out based on department or location (for international companies).
Some dedicated sections on a microsite include:
Benefits in specific countries

Company values

Work culture & offices

A people & culture blog

DEI statment

Teams spotlight

Company story & journey

Specific work programmes e.g. internships and graduate schemes

Social impact / CSR activities
9 Awesome careers page examples (and what we love about them)
1) Notion
Video assets: Notion has used video assets very effectively here, especially in the 'Life at Notion' section where they take the opportunity to introduce specific teams.

On-page job board: They've also included a comprehensive job board on the page which has relevant filtering options for location and department.

Brand assets: There are custom illustrations dotted throughout the page, particularly on the benefits and values sections.

Values in action: Notion has stepped up to show that their values are more than just words by giving examples of what they've done to apply their values.
(Visit Notion's career page here)
2) Toggl
Work life: Toggl's work life section gives an quick snapshot of what it's like to work at Toggl from their comfortably remote workplace, to their unique way of working, to their social side.

Employee testimonials: Their employee testimonials with badges to highlight the working mothers, digital nomads and night owls is a nice touch that assures potential applicants of the great work-life balance on offer.

Job board: Within the business, Toggl has a few different units (e.g. Toggl Track and Toggl Hire) and the job listings on their careers page make it clear which area of the business this role is for.
(Visit Toggl's career page here)
3) Wise (Microsite)
Filters: Straight away Wise has provided filters so that visitors can find suitable jobs quickly and easily.

Dedicated social media: Wise has a dedicated instagram for their people, complete with vlogs from the team.

Deep dives into teams and offices: Applicants can take the time to find out more about the team and office that they'd be a part of from dedicated sections of the website.
(Visit Wise's careers page here)
4) Wix (Mircosite)
Dedicated culture blog: Wix has an extensive culture blog filled with articles about their team, events they've attended and how people have progressed within the company

How we hire: All the questions an applicant might have about the processes answered with one handy, informative page.
(Visit Wix's career page here)
5) Zendesk (Microsite)
CTA to join talent community:

Work life: Instead of going for the more classic 'values' and 'benefits' section, Zendesk has wrapped it into one called ' Life beyond the screen'
(Visit Zendesk's career page here)
6) Hotjar
Perks spotlight: Hotjar doesn't just skim over their perks, they get into the details and really wow their applicants.

Transparent application process: All the steps of Hotjar's recruitment process is open and clear, even the nuances for engineering applicants.
(Visit Hotjar's careers page here)
7) Homerun
Team photos: The photos on Homerun's careers page are genuine and fun and give a true insight into the company's vibe.

Transparent application process: Homerun is upfront about their application process and gives a good reason for each step alongside what it entails.
(Visit Homerun's careers page here)
8) Slite
Words from the founder: Slite's founder has thoughtfully introduced their mission and described the kinds of people the fit in well.

Meet the team: Being a small team, Slite has taken the time to introduce everyone on their team to show how valued every team member is.
(Visit Slite's careers page here)
Looking for more inspiraton?