Website Anatomy
How to create a problem-solving contact page
Your contact page should be a hub of communication between you and your website visitors. Make their life and your life easier with an effective contact page!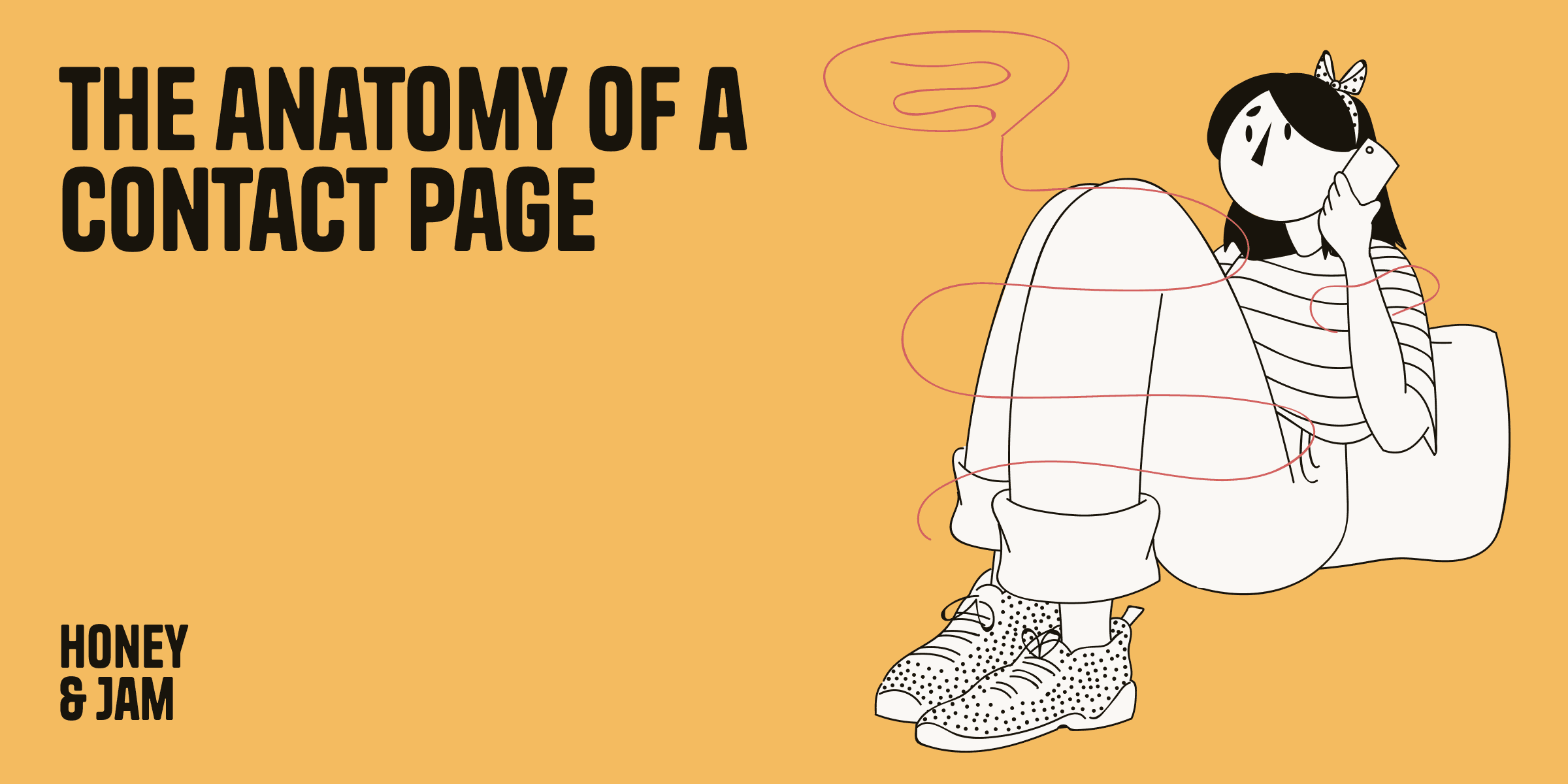 The goal of a contact page
With a contact page, you don't need to set too lofty of a goal. What it should achieve is that means of communication are obvious and apparent to the user.
How you tackle your contact page can be heavily influenced by the size of your company. Where you are a small business with one or two core teams, you are able to opt for a more simple contact page. Whereas a large organisation might need to create something more comprehensive so that enquiries are being directed to the right department.
Examples of departments that someone might want to contact include:
Sales

Press / media

People / human resources

Partnerships

Support
Ways to approach your contact page
1. Segment & direct
Creating channels for users to contact the right team is becoming a popular approach and varies from the more classic contact us page format. This approach has favourable outcomes for the internal teams who are receiving messages in their ideal format be it email, form/ ticket submission or live chat as well as the user who will have their enquiry addressed faster by reaching the right person.
(Example from Forethought)
2. Minimalist
You can also keep things simple by listing out all the avenues for communications for users to choose from themselves. This can work best for small teams where only a small number of people will be addressing these queries anyway.
(Example from Homerun)
3. Maximalist
For larger companies, it can make sense to use your contact page like a company directory, pointing people in the direction of the right, email, webpage, contact form or phone number.
When you think of the vast array of reasons someone might want to get in touch with a big company (anything from references from HR to providers looking to tender for contracts), it makes sense to highlight all the appropriate channels and only provide a general form for backup.
(Example from Sage)
4. Form
While forms used to be commonplace on contact pages, they're mostly swapped out to avoid spam and frustration. Depending on the company, a simple contact page with form could work if you're a small company, not expecting a huge volume of enquiries or all of the enquiries are routed to one person or team anyway.
(Example from Personio)
You can read more about different ways to approach your contact us page here.
Best practices
Keep it on brand
Just because it's a functional page, doesn't mean it can't still be beautiful and on brand.
Don't bury information
As much as you might want to reduce enquiries of a certain kind, it's important to route them to the right place instead of just hiding the information. By burning the necessary details, you'll most likely end up with a bunch of requests going to the wrong person or team, causing frustration for site visitors who aren't getting replies and for internal teams trying to manage requests they can't help with.
(Example from HiBob)
Popular elements of a contact page
Email addresses
It's likely that not every team will have a designated form or page to direct someone to, in which case it's handy to provide a collective email address like partnerships@example.com or people@example.com.
It's not as popular to provide an individual's email address although you can see it around the web, where a company is wanting to take a more personal approach to their contact page.
Phone numbers
Most companies don't want random calls coming in left, right and centre. So what's most common is to provide one number for the company as a whole ... and in a not so prominent place.
This allows someone within the company to direct the call or take a message rather than providing direct numbers for lots of different departments which can lead to your offices being spammed with calls if you're not careful!
Usually the number which is advertised on the site is the number to call support as they're the department most people are going to want to be getting in contact with by phone, plus they'll have the infrastructure to manage these calls.
Office location(s)
Whether you have one or many office locations, it's good to list these on your site. Sharing your physical location is a good trust builder for potential customers and is helpful for people trying to draw up invoices and send post etc.
(Example from Zendesk)
Links to live chat
If you offer live chat, be sure to include this on your contact page, ideally having a CTA on the page which would open the chat bubble or redirect the user to the live chat page.
With live chat, it's also important to clearly give the times that live chat is available/ active so people aren't getting frustrated by trying to contact you unknowingly out of hours.
Social media links
Many companies leverage their social media channels to share product updates, open positions and new content so be sure to point people in that direction at any given opportunity!
A contact page is a great place to highlight your social media presence and gain some new followers and increase your reach as well as potentially open a channel for communication with visitors, if that's what you're looking for.
(Example from Miro)
Form
You'll always want to have a form for sales
We've mentioned above that there are other approached to a contact page without having a catch-all form, but there is certainly a time and a place for them.
For example, for agencies and physical service providers it makes absolute sense to have one form as there's probably only one reason someone will be contacting these types of companies.
Also for larger companies, it can be good to offer a general form for contact as a back-up in the case that the person isn't sure which team to contact.
(Example from Dodonut)
How to evaluate the success of your contact page
When it comes to assessing your contact page, you can consider some hard metrics like bounce rate and time on page for a contact page, as well as the conversion rate of any sales paths. You can also pay attention to some more anecdotal evidence like the number of requests coming in for different teams, and if any are being bombarded.
If you've chosen to go for the segment and direct approach, then it's worth implementing button tracking for these to track the purpose that people are coming to the page. For example, if you're finding that 70% of traffic to your contact page is for support, you could maybe make 'Contact Support' it's own CTA around your site or in the footer to streamline the user journey.
If you're finding that some teams are being bombarded with spam requests or questions for another team, it could be time to evaluate your page and think of a more sustainable approach.
It's good to get an idea of hard numbers of spam/ incorrect requests to understand the scale of the problem and not jump to conclusions!
Finally, you can also implement a live chat prompt (if you have one integrated) to ask visitors if they found what they were looking for on the page and ask what it was if not. This might give you ideas of what else you may need to incorporate into your contact page.
Looking for more inspiration?
Visit Awesome Marketing Websites to see more examples of great contact pages -->